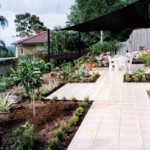 Landscaping can take your home from flat to fantastic. What landscaping offers to you and your property realistically depends on where you go with your landscaping. Ideas about landscaping your outdoor spaces can vary from basic to breathtaking and everywhere in between.
What is Landscaping?
Some people see landscaping and outdoor garden design as a way of extending their indoor space to offer more room for entertainment and outdoor fun. They add arbors and outdoor kitchens designed to enhance their use of their own land. Others view landscaping as something very basic. Landscaping to them is as simple as asking their significant other what kind of flowers to put in to hide the unsightly fencing.
Using Landscaping to Enhance Your Property
The real beauty of landscaping lies in its ability to enhance your yard, your home, and your lifestyle. If your home is a bit flat, doesn't stand out in the work like you want it to, you can revitalize it by the use of some careful design and creativity in the yard or garden.
Landscaping is defined as "the conscious arrangement of outdoor space for human enjoyment and satisfaction."
Landscaping is so much more than that limited description.  A lovely landscape and a great outdoor look increase your ability to use your yard or garden. It can revitalize your home and increase the value of it.
What Can Landscaping Offer?
Landscaping can provide for shade where you need it. It can protect your home by strategically plotting where the greenery or plant matter goes in relation to your home or outbuildings to protect them from a fire. Landscaping can offer you a place to entertain and give you the extra space to do it in comfort and style. It can even prevent pests by the judicious use of specific insect repellent plants.
You are limited by nothing more than your imagination and your budget when it comes to using landscaping. The cost involved in a landscaping project can range from a few dollars for a new plant to many thousands for the kind of outdoor space that you've always dreamed of. What you put into your outside world will dictate to some extent what you get out of it.
What do you want from your Landscaping Project?
Before you begin your landscaping project, ask yourself what you want to gain from it. Be specific with your answers. Instead of saying, I want to get a prettier home, nail it down and say instead "I am interested in an area where I can go to read a book and be shaded from the sun." or, "I'd like to be able to cook and clean up outdoors."
Answering the question specifically will allow you to more accurately estimate the time and the cost that will be involved in your project. Once you've done that if you are not comfortable tackling the project on your own, contact our landscaping services for a full quote for your proposed project.
Landscaping has the power to revitalize your home in hundreds of ways. Explore a few of them today with DB Landscapes in Brisbane.