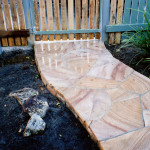 Create a veritable oasis in your backyard instead of just a simple pool area. Through the addition of certain elements, you can transform your pool area into a safe, scenic getaway that oozes ambiance! From the steps, pathways, and paving to the right plantings, our professional landscaping company can provide all the necessary elements.
Steps and Pathways
We will install steps and pathways where necessary to ensure you have sure footing to and from the pool area. You can select from such offerings as concrete, pavers, or sawn stone. All the choices will stay in place during use, and help prevent slips or falls from happening as you walk through your yard. Our steps and footpaths are not just usable, though, as we ensure they also add an attractive dimension to your yard.
Pool Decking
Our company provides pool decking construction that will hold up under exposure to both saltwater and chlorinated water depending on the type of the pool you own. The decking also does not become slippery when wet, as this would be dangerous. Consult with us on what we recommend for your setup.
Flowers, Shrubs, and Other Plants
We will recommend which flowers, shrubs and other plants are ideal to grow around your pool. These elements add an earthiness to the area and provide it with its oasis-like quality. Our professionals will plant each element and provide you with ongoing care instructions.
Water Features
Add a waterfall that runs into the pool, or a fountain or pond nearby to heighten the relaxing effect that water provides in your pool area. You can place fish and water plants in the pond, or enjoy the sight and sound of running water in the fountain or waterfall. How delightful a time you will have in this new oasis. Just tell us what you want, and we will design, create and install it.
Fencing Is Both Functional and Attractive
Fencing around a pool area is a functional, safety feature, as it will prevent unwanted guests from entering the area. That does not mean that it has to be unattractive. We will design and install the ideal fencing for around your pool area complete with gates to match.
Contact us today for further information, to receive a quote, or to employ our services to enhance your pool area. Remember, we offer not only paving options, but also other elements to enhance this area. Our staff here at Darryl Burchard Landscaping will provide top quality services at competitive prices. We guarantee your satisfaction.