Brisbane Landscaping at it's finest!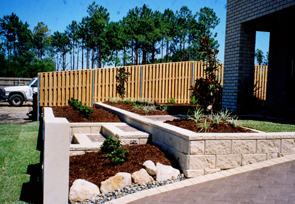 Darryl Burchard Landscaping provides landscaping services in Brisbane and has been creating stylish and livable gardens and outdoor entertainment areas for over 20 years.  Above all we offer a complete Brisbane landscaping service.
A stunning garden not only adds value to your home, most importantly it should extend your living area. Smart landscaping should allow you to make the most of the wonderful Brisbane climate.
Our specialty is constructing stone retaining walls. Methods include stone pitch rock retaining walls, sandstone boulders, sawn stone, Besser block, bush rock and boulder walls. We take the time to get every aspect of your retaining wall perfect, because we need to ensure it gets the best possible drainage, solid construction and good long-lasting looks.
We'll bring garden design and construction of structural landscaping so you can just sit back and watch. We'll make your dream a reality planting out your new garden with lush and vibrant new plants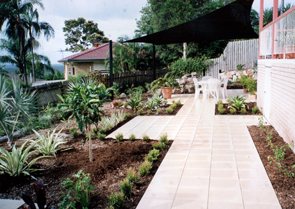 We also offer a full suite of other landscaping services including:
And of course, all of our landscaping services will fully comply with engineering specifications and council requirements. Besides that, we are registered BSA Structural Landscapers (BSA license number 604307).
So get peace of mind and a superb garden you will enjoy for years to come, because your family deserve it.
Need a reliable Landscaping Service in Brisbane? Call Darryl on:
Lets talk over the phone, therefore we can review some of your ideas you must have. Through years we have been able to explore solutions for clients. Gardens should deliver peace and harmony for the family. We promise no hurdle is too high, because we are good at what we do! We have had our challenges, but most importantly we have always been able to deliver top results. Lets review the project requirements for your better smarter gardens.
Darryl Burchard
Mobile: 0447 532 293