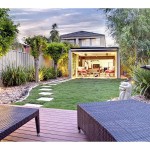 One of the great joys of summertime is the ability to get outside more often. Entertaining, cooking out, outdoor games are part and parcel of the fun that you have in your backyard during the summer months.
Sadly, getting the yard ready for spending time in it can be a lot less fun. Before the heat kicks in. make some plans to get your yard in shape.
Look over the Greenery
Take stock of all of the plants and trees in your yard and find out how they fared. Either prune dead branches and pieces or hire landscaping services  to get that accomplished for you. Pruning helps with the overall health and good growth of your yard and also gives you a lush green background in which to play.
Fire wise Landscaping
Keeping your landscaping more fire wise in nature is always a good idea in our climate. Prune back away from the house and try to keep your home free of overhanging branches or shrubbery that is tight against the building. Leaving a three-foot gap between the home and other growth helps to not only eliminate the fire danger but also to prevent pests from being up against the outside walls of your home and find a way inside.
Eliminate Pests
Take a long hard look at all of your plants and the surrounding areas for pests. Rodents, insects, and larvae can gather. Eggs from other pests may be prevalent on the bark or budding leaves. Also, take a look at the stale water where pests may breed when things begin to get warmer.  If you're infested as many people are, take a look at natural ways to eliminate garden pests or ask your local landscaping expert for assistance.
Plant for Shade
In our climate, getting a little shade in the yard is a great idea. Trellises that house larger climbing plants are a great way to go for sprucing up the summer yard and adding some cool spots too.
Landscaping can be a challenge, but there is always help to be found at your local landscaping service. If you're looking for great ideas and a little help in getting ready for summer, Darryl Burchard Landscaping can help. Call today for all of your landscaping and lawn concerns.