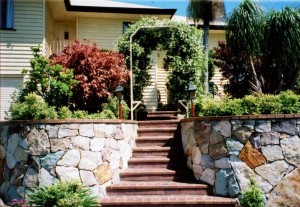 As experienced retaining wall builders Brisbane we understand retaining wall needs.
With over 20 years experience as landscape builders, we have always provided solid, durable retaining walls. Further more we pride ourselves on retaining walls that look great and provide a safe living space.
Retaining walls improve drainage, increase safety and help to create more usable living space in a garden. We specialize in building long lasting & durable stone retaining walls from the best materials.
Our Building team have extensive experience in constructing modern solutions to sloping yards.
Services include stone pitched retaining walls and terraces. Methods we use include sandstone, Blue stone and basalt and granite stone pitched retaining walls.
We are also experienced in building sandstone boulder retaining walls and terraces. Materials for this also include sawn rock, bush rock as well as Besser block and link block retaining walls.
Need retaining wall builders Brisbane? Call for fast friendly quote: Mobile: 0403 054 192
Retaining wall solutions can bring value to your home. Creating Beautiful gardens is a passion of ours so we hope to help bring it.
Let's talk about your garden issue so we can give you our top service promise and guarantee.
We work with all the safety equipment and insurance therefore you can rest assured of professional service.
DB Landscaping are BSA licensed and have a team of helpers to get your garden makeover looking great A.S.A.P.
About Darryl Burchard Landscaping
Working from North Brisbane Darryl Burchard provides expert Landscaping consultation to property owners around Brisbane.
He has 20 years landscaping experience. His work has taught him that for prestige gardening, he can help.
Best Landscaping Service in Brisbane!
Dream to rescue your gardens? Call Darryl so he can put together your dream gardening solution.
So what are you waiting for? Lets bring harmony into your garden. Call Darryl Burchard Landscaping on 0403 054 192 today!