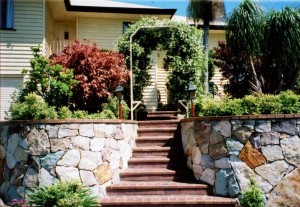 Retaining walls improve drainage, increase safety and help to create more usable living space in a garden. As experienced retaining wall builders, we specialize in building stone retaining walls that are built to last.
Our retaining wall Building team have extensive experience in constructing stone pitched retaining walls and terraces including sandstone, Blue stone and basalt and granite stone pitched retaining walls.
We also are experienced in building sandstone boulder retaining walls and terraces, sawn rock, bush rock as well as Besser block and link block retaining walls.
Need retaining wall builders? Call us for fast friendly quote: Mobile: 0403 054 192